Hair Through the Ages
Since the early 1990s my family has usually had fairly quiet Christmas evenings. Our big gathering takes place on Christmas Eve instead. This means we generally sit around (perhaps after seeing a movie) and watch TV or read or break out our new scanner and put it through its paces.
Faithful readers will remember the somewhat frustrating experience I had with Cecilia's Canon LiDE 30 scanner a few weeks ago. It wasn't that the scanner failed to work; rather, it was the less-than-intuitive interface of Canon's software that so disappointed me. Well, my new Canon LiDE 50 comes with the exact same software interface, but I have since discovered the joys of TWAIN import. In other words, I've been able to install the Canon plug-in so it's accessible by
GraphicConverter
,
Fireworks
, and my free copy of
Photoshop Elements 2.0
. Simply choosing "Import..." or "Acquire..." (depending on the program) works so much nicer than remembering which non-intuitive button in the CanoScan Toolbox does what. I'm quite pleased.
So pleased in fact that I needed something to do with my scanner on this gray and stormy Christmas afternoon and evening. Since I am at my parents' house and there are about a million family photos and I have had, at one time or other, "long" hair I decided to scan a representative sampling of pictures of me with various "hairs." Photoshop Elements contains the same Web Photo Gallery feature found in the big person's version of Photoshop, so I threw together a little web page. I call it "
Glenn's Hair Through the Ages
."
Enjoy and Happy Holidays.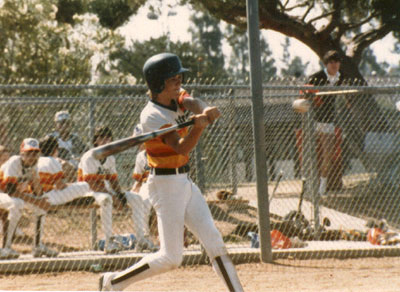 1984 -- Check out that form...
Posted: Thursday - December 25, 2003 at 03:02 PM